Our Aparthotel Olympia is perfectly adapted to your vacation needs and offers everything you need for a carefree time in the Seefeld region, Tyrol's alpine plateau.
The panoramic breakfast room with adjoining terrace and a magnificent view is the perfect way to start your day. Start your day off strong for active and exciting vacation days. Our breakfast ranges from fresh cold cuts and spreads to vegetables and scrumptious bread as well as a muesli bar.
We look forward to starting the day together with you.
We look forward to starting the day together with you.
In-house store & souvenir shop
We have our own in-house store, so that you can spend your vacation as carefree and relaxed as possible. You can buy drinks, snacks, sweets, groceries and ready meals around the clock.
This way, nothing stands in the way of a completely carefree vacation.
We also have a small souvenir store with mementoes and small gifts for your loved ones. You can find everything from caps to thermos flasks and keyrings – of course, all in the original Seefeld design.
The laundry room has two washing machines and two dryers available for a small fee. Irons, ironing boards and laundry baskets are also available for you. At the laundry station you can also change your towels for free and get toilet paper supplies.
Toboggan and snowshoe rental
In order to offer you the right variety in winter, you can rent toboggans, snowshoes and ski poles directly from us.
Seefeld is the place for enjoying sports and active vacation experiences. That's why our Aparthotel Olympia naturally also has a ski and a bike room. In the ski room you will find heated lockers for skis and boots as well as a ski waxing table. The bike room offers storage areas for bicycles as well as charging stations for e-bikes. Your hiking boots and all other equipment can be conveniently stored in the lockers.
Have you always wanted to cycle through the Tyrolean mountains, but without having to peddle too hard? Then rent an e-bike directly from us at the Aparthotel Olympia (for a fee) and go on a journey of discovery. We also have bike trailers for kids and dogs as well as helmetsavailable to rent. You are welcome to reserve the e-bikes in advance or let us know directly on site. If you need any tour tips, just let us know, we will be happy to advise you.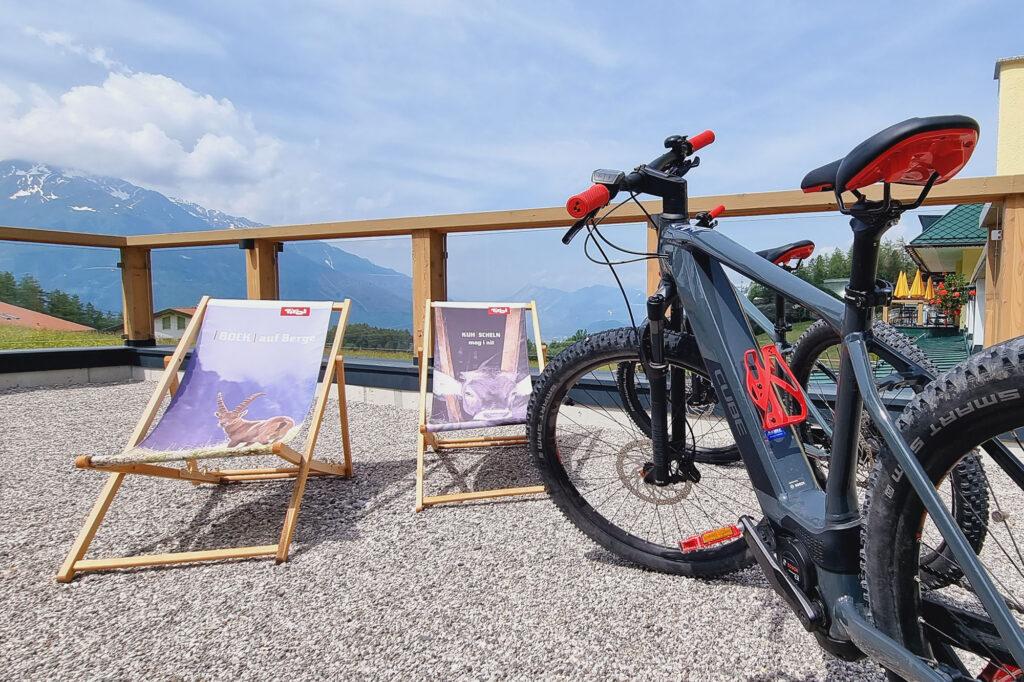 Local recreation areaLake Möser
Lake Möser is located slightly above our house and is a true paradise all year round for people seeking peace and quiet. It is considered the warmest natural swimming lake in Tyrol and entices you to jump into the refreshing water during the warm seasons. In the cold, snowy seasons it lies embedded in the snow-white landscape like an enchanted frozen lake, and on weekends you can do your rounds here with your ice skates.
Charge your e-car comfortably at our in-house charging station.
Cross-country skiing ticket included
Guests of the Aparthotel Olympia use the extensive cross-country skiing network on the Seefeld plateau completely free of charge. The cross-country skiing ticket is already included in the stay. And the best part? Two entrances are located in the immediate vicinity of the hotel.
If you decide to travel by train, please let us know in advance, so we can give you a guest card for the free bus ride. With the guest card you can use all buses of the Seefeld region for free during your entire stay.